Often times an agency picks up new lines and also loses lines.  When looking at sales numbers in Sales IQ, these numbers can often be distorted when you display both new manufacturers and lost manufacturers along with your active manufacturers.  The following examples will help you to identify your true sales numbers by excluding these manufacturers.  Also, modifying the manufacturers name with a symbol provides a quick visual when displaying all manufacturers in a list.
Classifying a Manufacturer Status
When adding a manufacturer the status is set to "New" by default.  Once a "New" manufacturer has met the agency's requirements for categorizing the manufacturer as "Active", the status should be updated.   Many agencies make this change after 1 year.  The following example shows how to change a manufacturer's status.
From the Manufacturer Maintenance screen, select Active from the drop down list in the Status field.
Adding a Symbol to the Manufacturer Name for an Easy Visual of New or Lost Lines
For a quick visual of "New" or "Lost" lines in your Sales IQ display list, you can modify the manufacturer name with a symbol that is easily identifiable such as "<-" for a lost manufacturer or "<+" for a new manufacturer.   Once you change the status from "New" to "Active", then you can remove the symbol from the manufacturer.

In the following example you can see the new manufacturer Simplex Manufacturing which has the "<+" in front of the name and you'll see that there are sales in the column Jan-Oct14 but no sales in previous years.  You will also see the inactive manufacturer S P & P Inc. which has the "<-" in front of the name and no sales in Oct 14 or this YTD Jan-Oct 14  but sales in previous years indicating a lost manufacturer.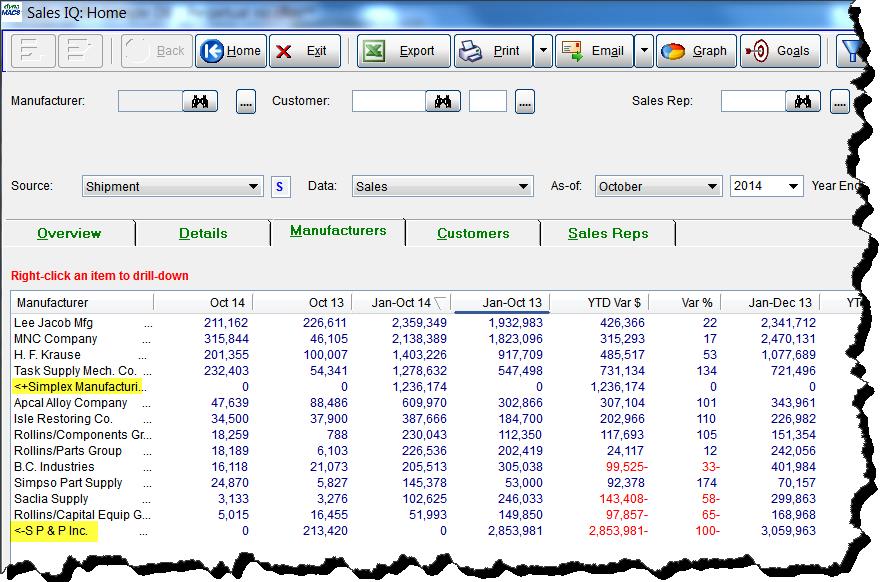 Excluding New and Inactive (lost) Manufacturers from the Sales IQ Display
You can remove "New" and "Inactive" manufacturers from the Sales IQ display by using the Filters button in Sales IQ.  This method will remove these sales numbers from the display showing you only the agency sales for "Active" manufacturers eliminating the new and lost lines.
From the Filters screen select Active from the Status drop down list under Manufacturer.
https://www.dynamacs.com/wp-content/uploads/EmpoweringdynaMACS_Logo-Vertical.png
0
0
dynaMACS Software
https://www.dynamacs.com/wp-content/uploads/EmpoweringdynaMACS_Logo-Vertical.png
dynaMACS Software
2014-07-31 11:49:00
2022-03-28 10:27:54
Tip #1407 - Evaluating True Agency Performance