"dynaMACS uses GoogleMaps to plan efficient routes when we visit multiple customers. We spend less time in the car and more time selling."
Joe Durbin, President
State Side Sales, Inc.
Client Challenge
State Side Sales Agency was using rudimentary sales and commission software that didn't provide enough useful information to meet their needs. The agency chose dynaMACS and instantly had a wealth of meaningful data to analyze performance, track trends and operate proactively. As the years passed, the agency became accustomed to having all the sales and commission information they needed at their fingertips. When State Side Sales stopped using dynaMACS and tried to get by with different software, they missed many of dynaMACS' features.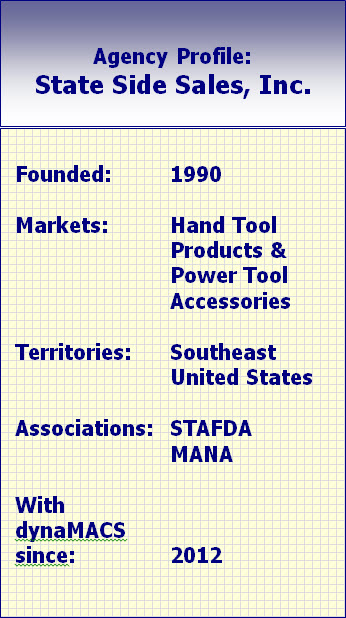 dynaMACS Solution
Joe Durbin, President of State Side Sales, read an article on LinkedIn about dynaMACS' ability to map routes when visiting multiple customers, and he saw an opportunity to improve his agency's efficiency. "We were already missing our favorite dynaMACS features. When I saw the GoogleMaps function, I knew it was time to go back to dynaMACS. We now spend less time in the car and more time selling and building relationships."
While looking at the sales numbers, reps select the customer addresses that they want to visit. A map view of all locations is displayed, along with the most efficient routes and directions between locations. Sales reps can also re-sequence the route if they choose. "We're increasing efficiency, reducing travel time and maximizing reps' time."
The agency also has the ability to select a territory and see performance data for the top 20% of manufacturer/customer relationships (using sales volume). "We use this as a performance indicator and we see trends faster. It's another level of knowledge that we didn't have without dynaMACS."
dynaMACS continually adds new functionality, and the support team is on hand to show State Side Sales tips and tricks for extracting detailed information organized in meaningful ways, with just a few mouse clicks.
https://www.dynamacs.com/wp-content/uploads/EmpoweringdynaMACS_Logo-Vertical.png
0
0
dynaMACS Software
https://www.dynamacs.com/wp-content/uploads/EmpoweringdynaMACS_Logo-Vertical.png
dynaMACS Software
2017-06-26 11:49:32
2022-03-28 10:26:14
Case Study: State Side Sales