"With dynaMACS cloud, our data is secure, always backed-up and easily accessed from anywhere."
Jon Edwards, Controller
Maschmedt & Associates
Client Challenge
Maschmedt & Associates had been using an Access database for tracking agency sales and commissions. Updating the system required outside resources, using it was time-consuming and it was too old to keep pace with the busy agency's needs.
Maschmedt needed modern and sophisticated software. Controller Jon Edwards had a list of features that he was looking for: Software designed especially for sales agencies. A way to quickly enter invoices and reconcile manufacturer commission statements. The ability to distribute up-to-date and comprehensive reports to sales reps. A cloud-based system for security and backup. And the software must update automatically.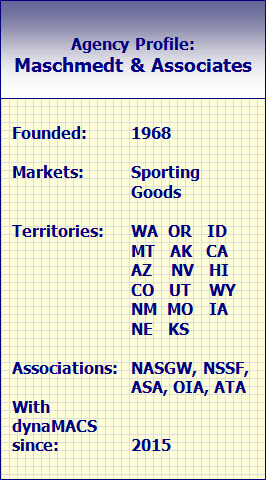 dynaMACS Solution
When researching solutions, Edwards learned about dynaMACS' capabilities and scheduled a demo to see the sales agency software in action. dynaMACS checked all the boxes on his list – and had even more functionality and the potential to greatly improve efficiency.
It's been a smooth journey from the start, when three years' worth of data was converted and migrated from Access. Since implementation, there's been a significant impact on operations:
*Sales and commission data is cloud-based, so it's secure, backed-up and accessible from anywhere
*Software automatically updates
*dynaMACS' eSi eliminates 98% of manual data entry
*Sales reps have up-to-date sales data for their territory (Previously numbers were two to three months old)
*Information can be sliced and diced in numerous ways
*Maschmedt & Associates can drill down for detailed information on manufacturers, customers and reps 
With powerful ways to analyze sales, pay reps and track commissions, Maschmedt has a 360° view of performance.
https://www.dynamacs.com/wp-content/uploads/EmpoweringdynaMACS_Logo-Vertical.png
0
0
dynaMACS Software
https://www.dynamacs.com/wp-content/uploads/EmpoweringdynaMACS_Logo-Vertical.png
dynaMACS Software
2016-08-04 14:26:22
2022-03-28 10:26:17
Case Study: Maschmedt & Associates