A powerful tool for sales agency performance analysis
Sales IQ is an easy-to-use yet powerful analysis tool that lets you instantly view sales and commission performance data with a few keystrokes. You have complete control!
Features
Select any combination of manufacturer, customer, or sales rep.
Select data based on document type – invoices or commission statements.
Drill down to more detailed information on any screen.
Select any previous period and view sales history for up to 5 years.
Analyze sales information based on any prior month or year.
Analyze sales information based on any fiscal year-end.
Change any selection criteria and immediately change graphical presentation of the data.
Filter information based on database classifications.
Export data to spreadsheets.
"How is my agency performing for each manufacturer?"
Here, all manufacturers are shown, ranked by year-to-date commissions. The order can be instantly re-sequenced with a single mouse click.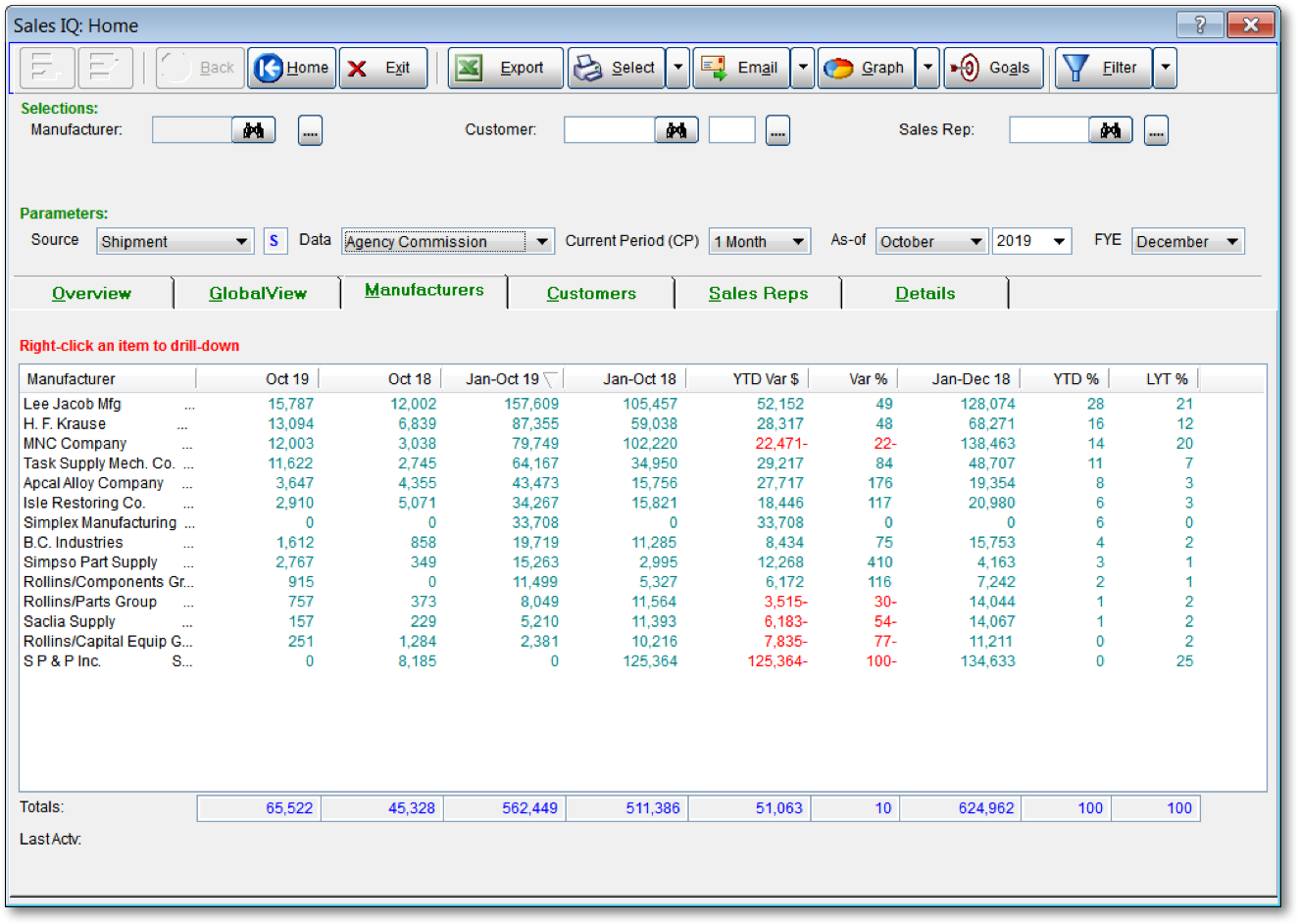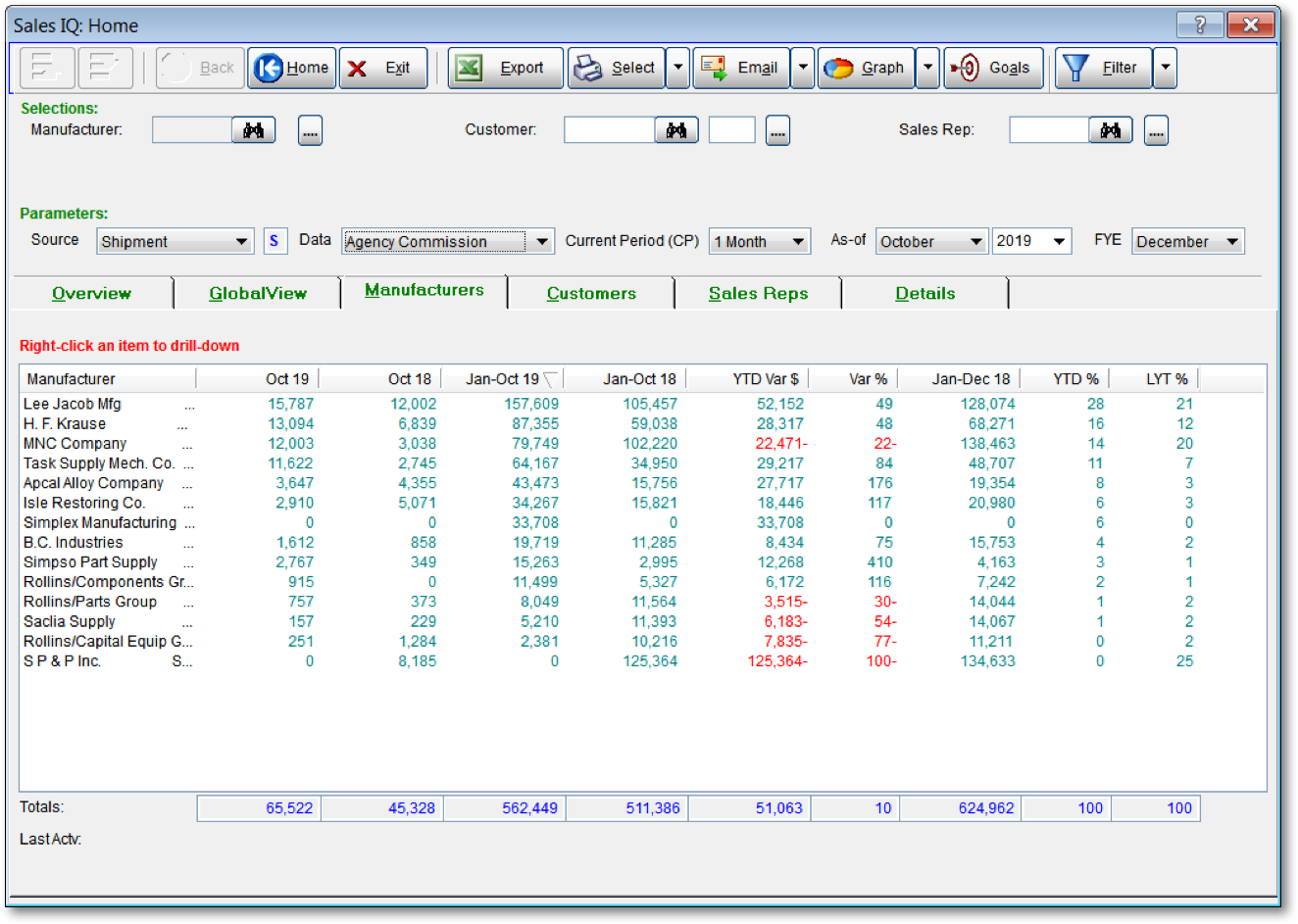 "Can I graph this information?"
From the previous screen shot, information has now been turned into a graph, for easy reading and use in presentations.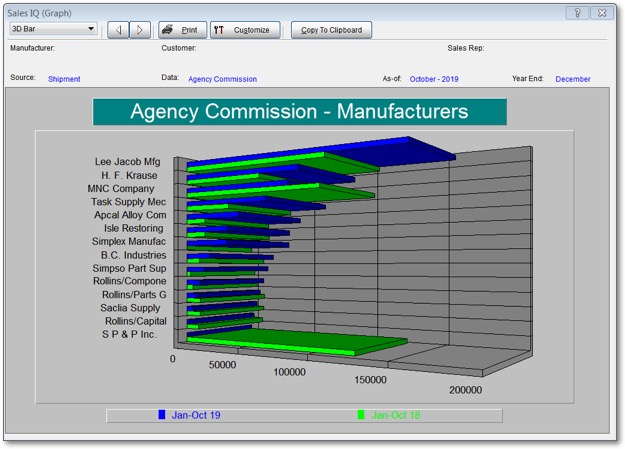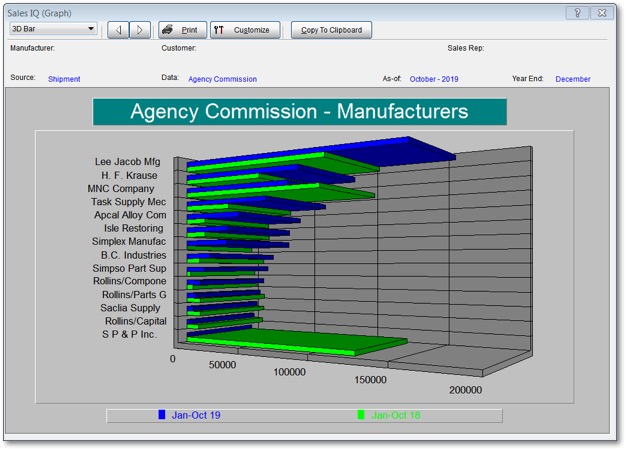 "How do I 'drill down' to see detailed information?"
Right clicking on a specific manufacturer drills down to more information. Below, Show Sales Reps is being selected for viewing.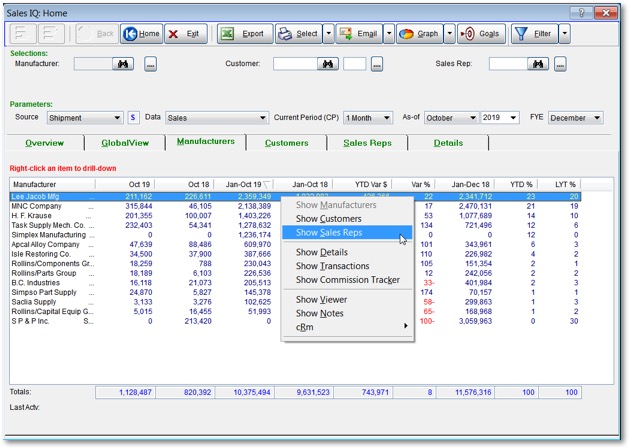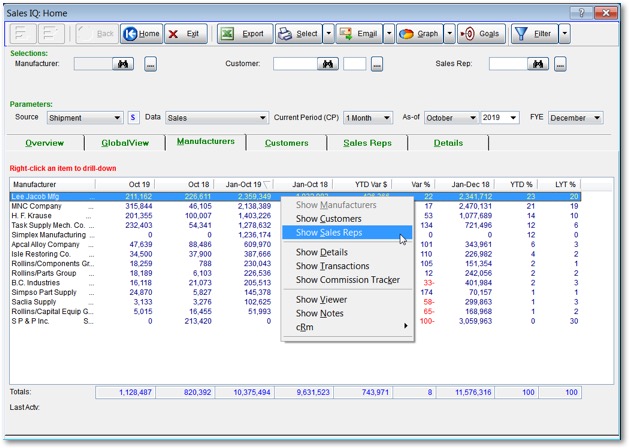 "How are my sales reps doing for this particular manufacturer?"
All sales reps are listed, with their numbers for the selected manufacturer.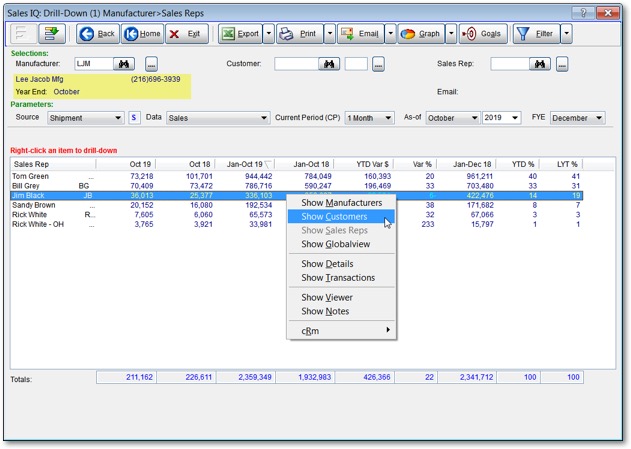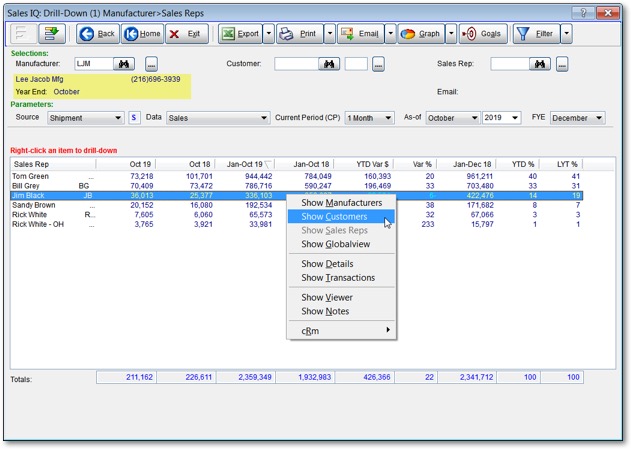 Selecting a sales rep, and then right clicking and selecting Show Customers, displays customers that buy from the selected manufacturer in the selected sales rep's territory (shown on next screen).
"How is a sales rep doing for the customers that buy from that manufacturer?"
The customers buying from the selected manufacturer in that sales rep's territory are ranked.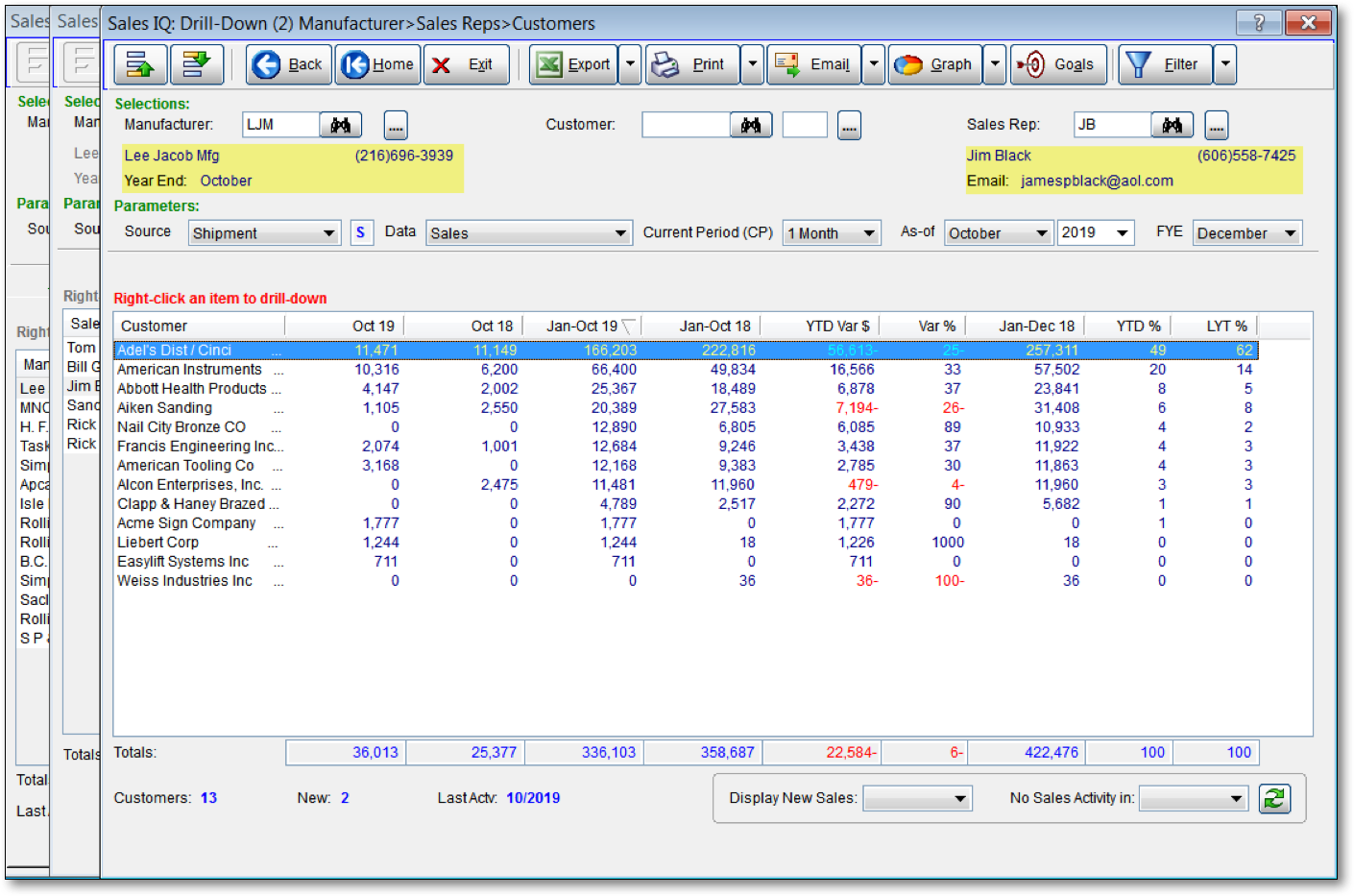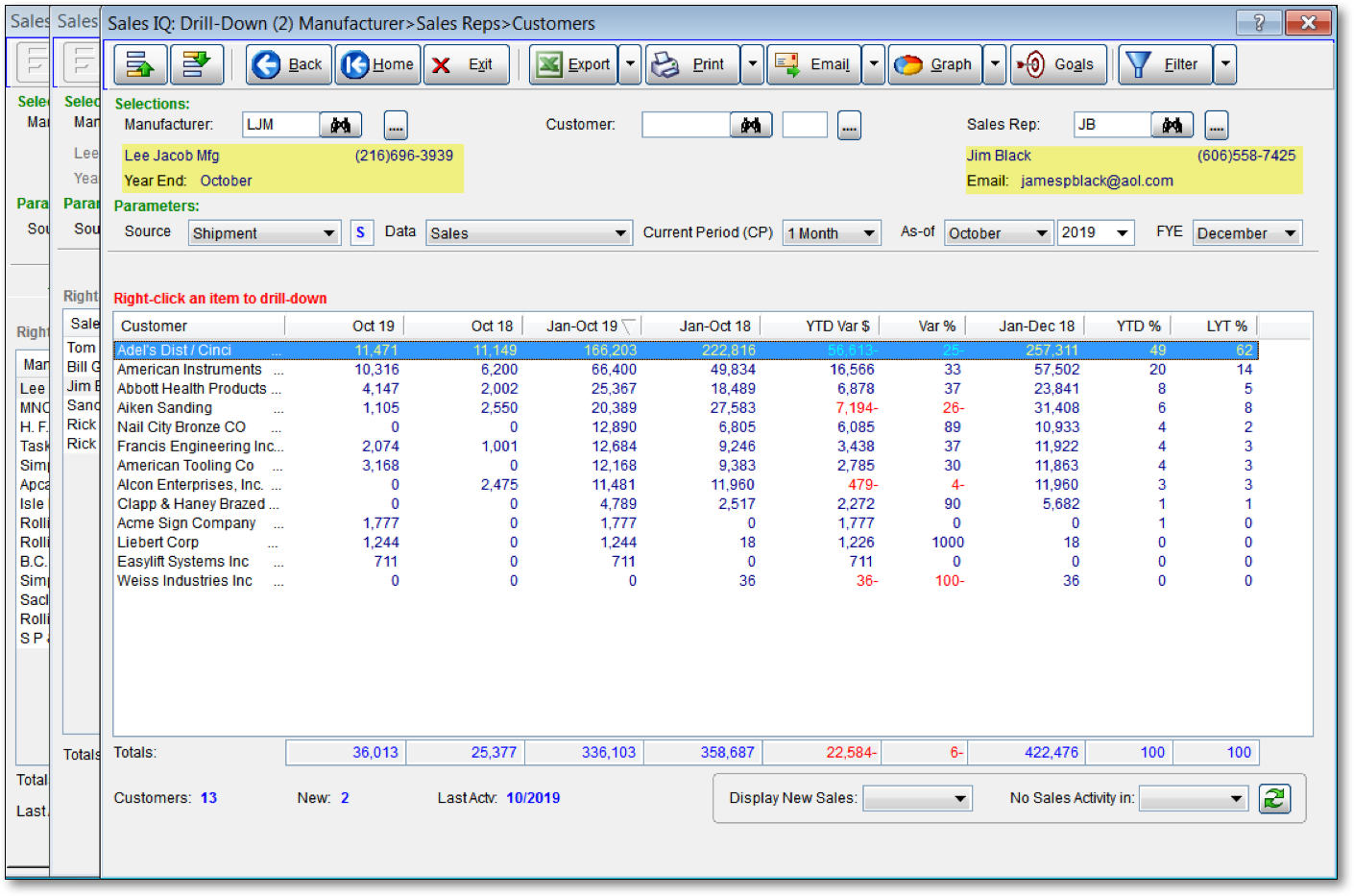 Overview of GlobalView
GlobalView is a new analytical concept developed by dynaMACS and is unique to dynaMACS Software. Users now have the ability to view all Customer/Manufacturer relationships on a single screen. Prior to this unique feature, users had to drill down from either Customers or Manufacturers to see these records. Now users can easily and quickly slice and dice these Customer/Manufacturer relationship records on a single screen enabling them to analyze where they are up or down.
Features of the GlobalView Screen
When selecting the GlobalView tab dynaMACS will automatically display the "Top" 20% of the customer/manufacturer records based on the user default sort column.
One of the key features is the Selector Section. This is used to determine what records to display in the GlobalView list. The selector options are described below.

Top – This is the default option when first displaying the GlobalView tab and by default the top 20% of all records will be displayed.  This number may be overridden.  For example, if you want the top 10 customer/manufacturer relationships to be displayed, enter "10" in the field next to the Selector field.
All – As the name implies, all records will be displayed when this option is selected.
New – When selecting New you have the option to see new This Month or new This YTD.


"Can I export transaction detail to Excel?"
The Transaction Viewer allows you to see the detail transactions that support a session total in Sales IQ.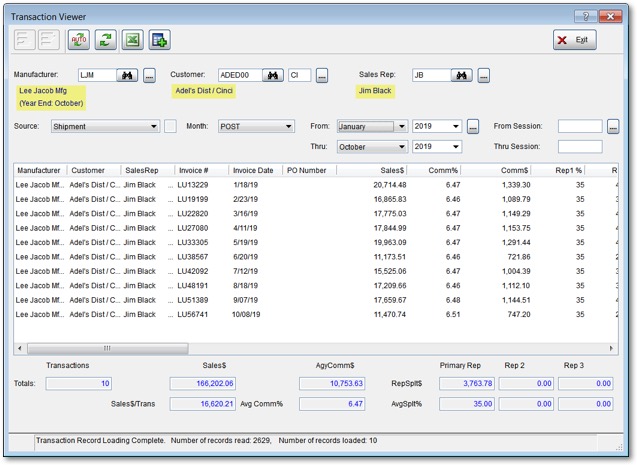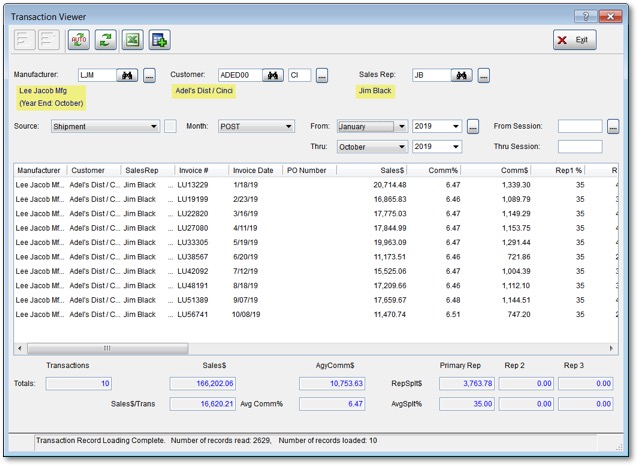 You can also export all data records displayed on the Transaction Viewer screen to an Excel spread sheet by simply clicking on the Export to Excel  button.
"How can I easily reverse a session?"
Reversing an entry session in Transaction Viewer is as simple as drilling down to a single session, clicking on the Create Session button and selecting reverse amount signs.